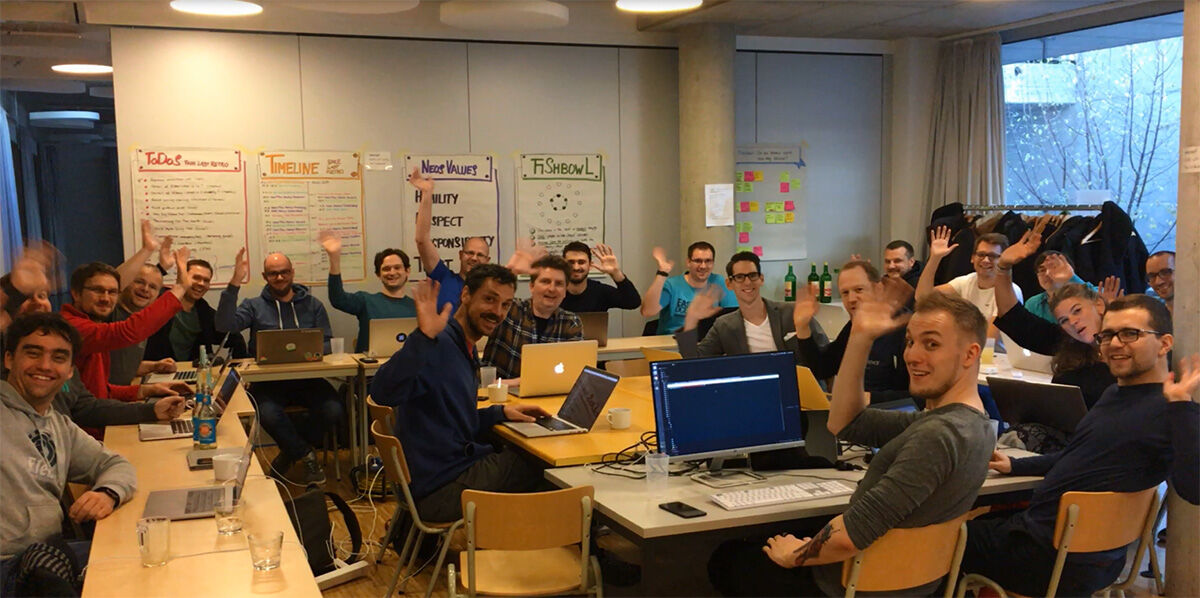 Neos Blog
Neos Sprint Vienna - from a different perspective
For the last time in 2017 Neos community members met in Vienna for a whole week of Neos sprint fun. 
From November 13th until 17th our wonderful hosts web&co and Code Q welcomed the Neos Team and more supporters of the Neos Community for the first time in Vienna, Austria.
We met at the Wohnprojekt Wien an inspiring society of people who work and live as a cross-cultural community in a sustainable environment. So our group of people from 5 different nations and varying core areas perfectly fit in.
Special about this sprint was also that we had some families with children of the attendants coming by to say hello every day. So the future of Neos is in safe hands ;)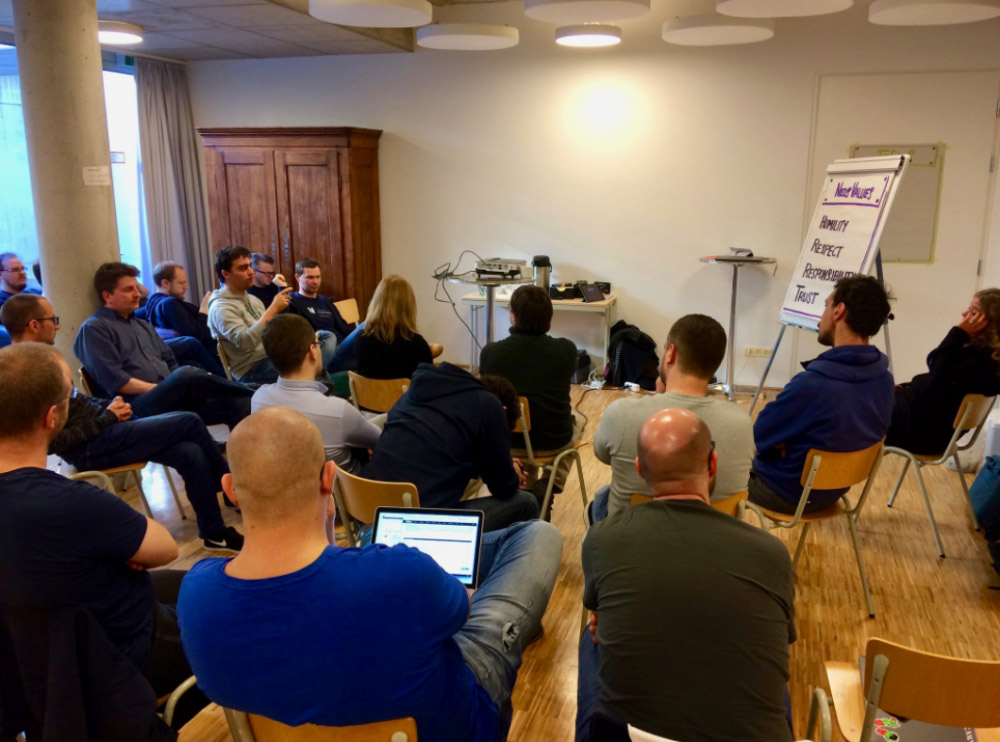 Neos Team Retro
On Tuesday we had a retrospective. About twice a year we deliberate and discuss different kinds of topics for the Neos project. This was my first Neos retro so here is a short summary:
After looking back at previous to-dos and a timeline what happened since the last retro, it was great to see how the project is growing and especially working thanks to all the team members and the community that puts so much love and effort into the project. So very adequate were the short summaries of the Neos Values that followed - my favorite part of the day. Humility. Respect. Responsibility. Trust. And how they work together. It was very inspiring and very important to remind everyone of those values and make oneself think about it - it definately got me thinking!
For the rest of the day we had different fishbowls. A fishbowl is a conversation method for larger groups that allows a small group to talk about a specific topic and the others watching, listening or engaging in the discussion by taking a seat in the inner discussing circle (what is a fishbowl).
My favorite topic of discussion was diversity. Basically we talked about how we can spread the project internationally and also interest more women in Neos. We came up with some good ideas and to-dos after funny discussions about rainbow shirts and stricter "English-only" rules.
It is very impressive to have a solid and effective discussion in a group of 25 people.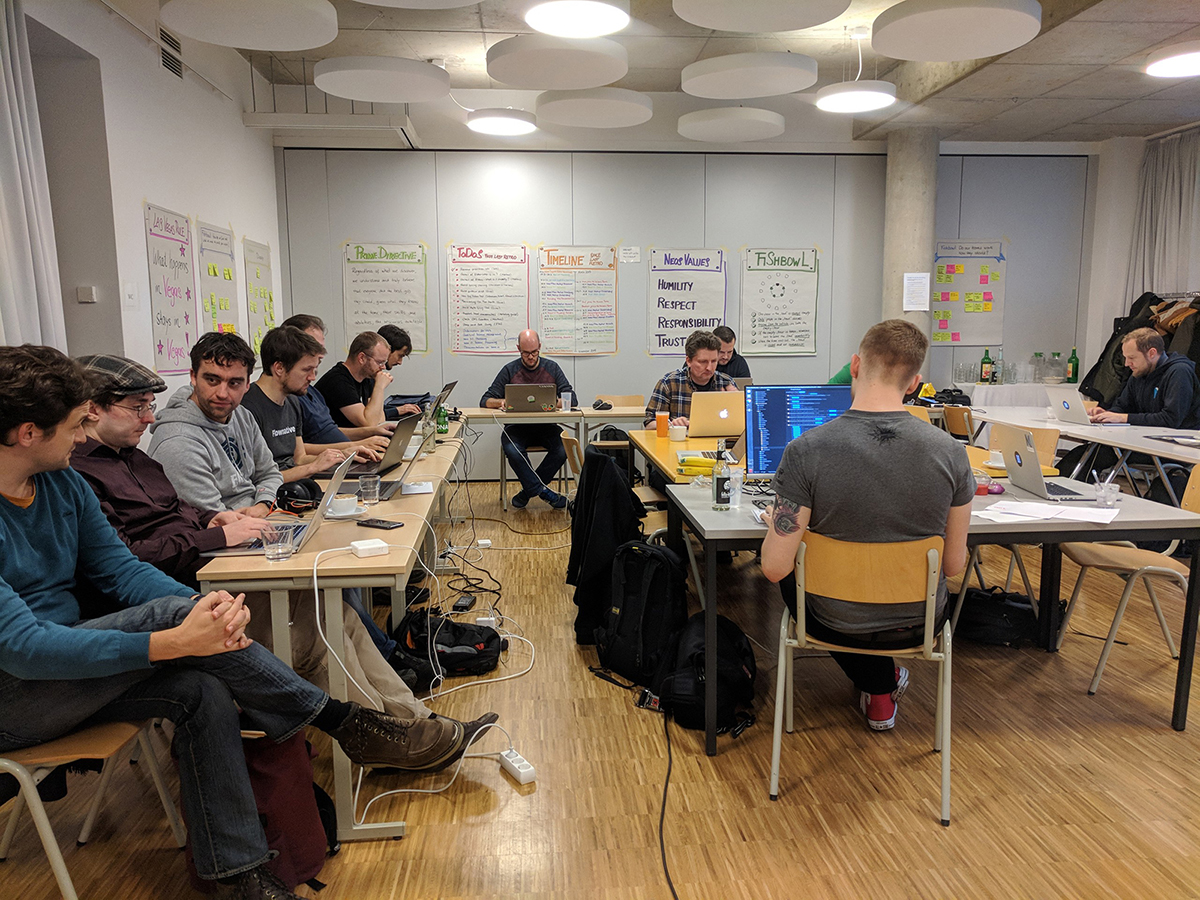 After the retro we all got together and our hosts web&co and Code Q prepared some pizza dough for everyone to self-create pizza with delicious toppings. Interesting conversations and a few cold beverages - all in all a perefect evening in a very casual and familiar atmosphere.
Wednesday - a sunny sprint day
On my second and last day at the sprint in Vienna we were a pretty big crowd of people. But even though at some points every seat was taken, it had a really laid-back and at the same time deeply concentrated feel to it. Always a little music in the background, sometimes just the typing and clicking on laptops, hushed conversations with smart words I couldn't understand and of course every other moment a wave of laughter because someone made a hilarious comment. I was able to exchange ideas about the conference with some people, talk about life and what is important to other team mates.
I was sad to leave already, but I left inspired and full of beans for the upcoming months.
Famous last words
Finally I would like to tell you about my personal impression of the sprint.
Talking about the values made it even clearer to me: I really enjoy working with this group of people and community. We all know I am far away from being a developer or having a technical understanding. But it doesn't matter. I do what I can and I belong. I felt comfortable being there as the event girlie that annoys everyone with conference propaganda between all this outstanding group of men and women.
I said it after the Conference to everyone who would listen and I will do it again: this community is humble, polite, open and cooperative. It was a pleasure spending those two days with you.
You rock!